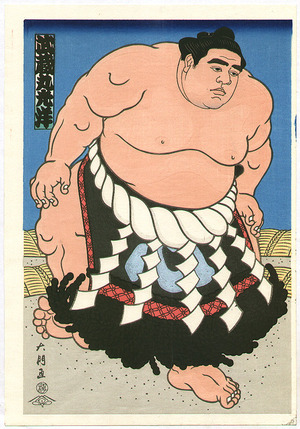 Artist: Kinoshita Daimon
Title: Champion Sumo Wrestler Musashi-maru
Date: Late 20th century.
Details & Prices: Kinoshita Daimon: Champion Sumo Wrestler Musashi-maru - Artelino
Source: artelino - Japanese Prints
Browse all 24,756 prints...
Description:
"Musashimaru Koyo". A champion sumo wrestler Musashi-maru Koyo. Musashimaru was the first non-Japanese champion sumo wrestler in 1999. He came from Hawaii. After some 80 years of absence, the Japan Sumo Association commissioned the making of traditional nishiki-e style woodblock printing to publisher Kyoto Hanga-in and artist Daimon in 1985. These and other new Sumo Nishiki-e are sold in Ryogoku Kokugi-kan in Tokyo.