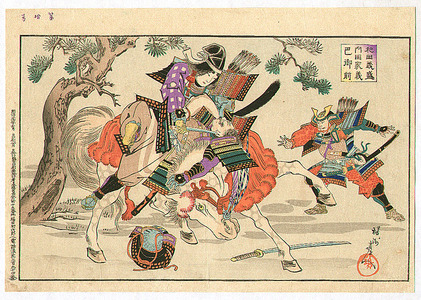 Artist: Toyohara Chikanobu
Title: Warrior Tomoe
Date: 1898.
Details & Prices: Toyohara Chikanobu: Warrior Tomoe - Artelino
Source: artelino - Japanese Prints
Browse all 24,756 prints...
Description:
Tomoe Gozen is about to kill Uchida Ietoshi. Wada Yoshimori is running toward them. Tomoe-gozen in 11th Century was one of the few female warriors who was historically documented. Her husband or lover was Genji General, Kiso Yoshinaka. She was described as follows in "The Tale of Heike" : Tomoe was especially beautiful, with white skin, long hair, and charming features. She was also a remarkably strong archer, and as a swords-woman she was a warrior worth a thousand, ready to confront a demon or a god, mounted or on foot. She handled unbroken horses with superb skill; she rode unscathed down perilous descents. Whenever a battle was imminent, Yoshinaka sent her out as his first captain, equipped with strong armor, an over-sized sword, and a mighty bow; and she performed more deeds of valor than any of his other warriors.