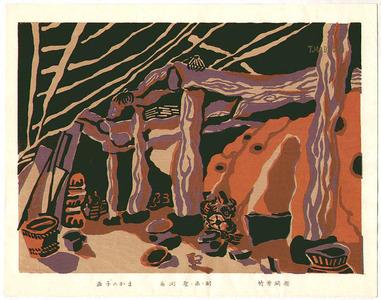 Artist: Mabuchi Toru
Title: Kiln at Masuko
Date: Ca. 1950s.
Details & Prices: Mabuchi Toru: Kiln at Masuko - Artelino
Source: artelino - Japanese Prints
Browse all 24,756 prints...
Description:
"Masuko no Kama" (Kiln at Masuko). Masuko city in Tochigi prefecture has been famous for its pottery production. Since the city located near the megalopolis, Edo, it had booming business for the potteries used every day. After the World War II, the production has been expanded to the artistic realms, which is known as "Masuko-yaki". Today, there are more than 300 kilns in Masuko.