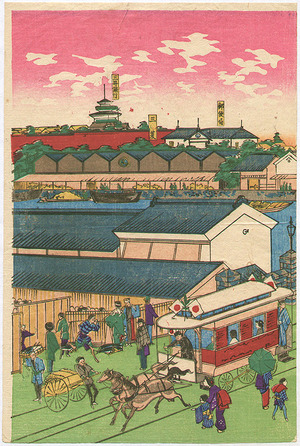 Artist: Kobayashi Ikuhide
Title: Fireman Acrobat on Nihon-bashi Bridge
Date: 1886.
Details & Prices: Kobayashi Ikuhide: Fireman Acrobat on Nihon-bashi Bridge - Artelino
Source: artelino - Japanese Prints
Browse all 24,756 prints...
Description:
"Tokyo Meisho no Uchi; Nishon-bashi Shinkei" (Famous Places of Tokyo) Bustling scenery on Nihon-bashi Bridge on the New Year's Day. The Firemen's group is showing off their acrobatic skills on a high ladder, Western style horse driven street cars, traditional rickshaws, gas lights as well as the people in kimono wearing hats. The tall building of Mitsui Bank and the post office are seen on the background. Quite fascinating triptych depicting the curious mixtures of the new Western elements and the Japanese traditional elements which were very typical in Meiji era.