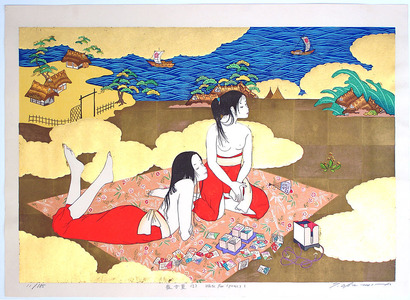 Artist: Okamoto Ryusei
Title: White Fox - Picnic
Date: 1990.
Details & Prices: Okamoto Ryusei: White Fox - Picnic - Artelino
Source: artelino - Japanese Prints
Browse all 24,756 prints...
Description:
From the series, "Kitsune Jodo", No. 1. The English title is "White Fox - Picnic, No.1". It took 8 months to finish this design. This series is in the collection of New South Wales State Art Museum in Australia and National Art Museum of New Zealand. The mischievous, somewhat coquettish girls are actually the transformations of foxes, which are the messengers of Inari (the god of rice harvest).