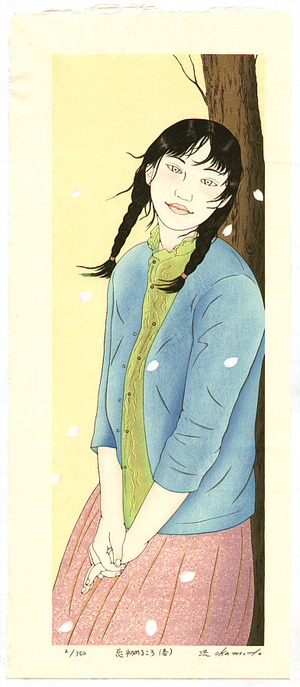 Artist: Okamoto Ryusei
Title: First Love, No.18
Date: 2004.
Details & Prices: Okamoto Ryusei: First Love, No.18 - Artelino
Source: artelino - Japanese Prints
Browse all 24,756 prints...
Description:
"Koi Hajimerukoro, Haru" - "First Love, No.18". Ryusei was very attracted to the neat and clean beauties by KIKUCHI Keigetsu, the renowned Nihon-ga master. When he encountered Keigetsu's beauty for the first time about 20 years ago, he felt as if she was telling him, "Do not linger here long, go back to your work soon". Ever since Ryusei has been working steadily to perfect his art work.