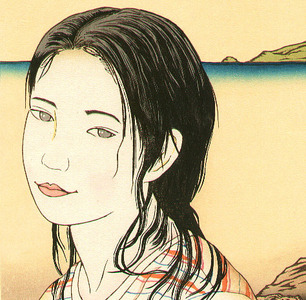 Artist: Okamoto Ryusei
Title: First Love No.8 - B
Date: 2001.
Details & Prices: Okamoto Ryusei: First Love No.8 - B - Artelino
Source: artelino - Japanese Prints
Browse all 24,756 prints...
Description:
"Koi Hajimerukoro, Natsu - B" The English title is (First Love, No.8 - B). The inspiration for this design comes from a famous kuchi-e, a print done by Kogyo Terazaki 1866-1919 generally referred to as "Beach Girl". See our archive for items 5542, 9610 and 15882. But it is not the attempt of a copy. The "beach girl" by Ruysei Okamoto looks like a real young girl with a personality - not just a torso.