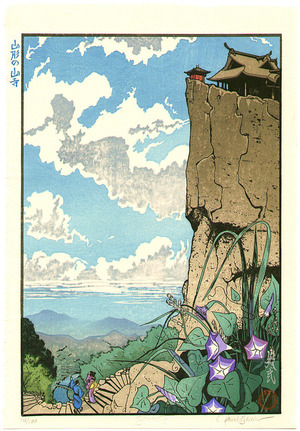 Artist: Paul Binnie
Title: Mountain Temple in Yamagata - Yamagata no Yamadera
Date: 2005.
Details & Prices: Paul Binnie: Mountain Temple in Yamagata - Yamagata no Yamadera - Artelino
Source: artelino - Japanese Prints
Browse all 24,756 prints...
Description:
In Yamagata in Northern Honshu, Japan's largest island, exists a beautiful mountain temple or Yamadera accessible only by stone steps carved into the mountain side. This design is a new state of a print, titled "Yamagata no Yamdera" and created in woodblock reduction technique in 1996 when Paul Binnie spent nearly 7 years in Japan. A comparison of this design with the one from .... shows the artistic development of the artist and his maturity.