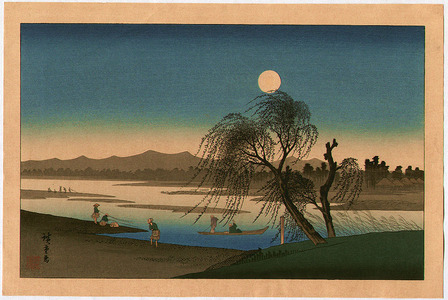 Artist: Utagawa Hiroshige
Title: Autumn Moon at Tama River - Edo Kinko Hakkei
Date: Originally in 1837-38, this is a re-carved edition made probably in early 20th century.
Details & Prices: Utagawa Hiroshige: Autumn Moon at Tama River - Edo Kinko Hakkei - Artelino
Source: artelino - Japanese Prints
Browse all 24,756 prints...
Description: "Edo Kinko Hakkei no Uchi" (Eight Scenic Views around Edo) "Tamagawa Shugetsu" Autumn moon over Tamagawa river. The original edition had 3-4 "kyoka" (humorous and often satirical poems of 31 syllables) related to the scenery printed. Later editions had no poems or some poems were altered. The complete set of eight prints are rare. This design has been considered one of Hiroshige's master pieses.