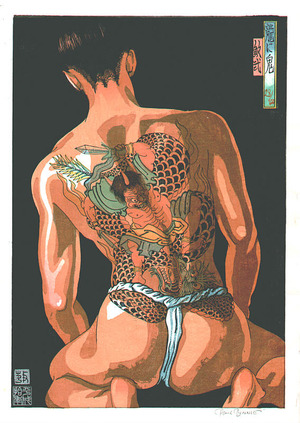 Artist: Paul Binnie
Title: Dragon and Demon
Date: August - December 1997.
Details & Prices: Paul Binnie: Dragon and Demon - Artelino
Source: artelino - Japanese Prints
Browse all 24,756 prints...
Description:
"Ryu ni Oni" (Dragon and Demon) A demon is battling against a dragon using two swords. Black outlined tattoo in light green, blue and yellow colors on the back. Dragon in Orient, is not an evil creature but a mythical entity associated with the water and rain. Therefore, it was a favorite motif for firemen in Edo.