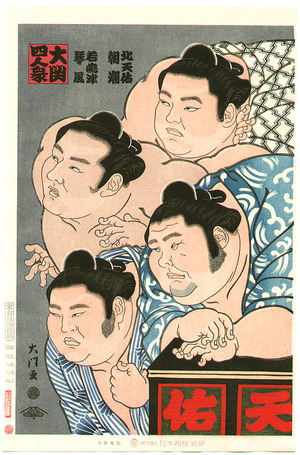 Artist: Kinoshita Daimon
Title: Four Champion Sumo Wrestlers - New Oh-Sumo Nishiki-e
Date: Ca. 1985.
Details & Prices: Kinoshita Daimon: Four Champion Sumo Wrestlers - New Oh-Sumo Nishiki-e - Artelino
Source: artelino - Japanese Prints
Browse all 24,756 prints...
Description:
"Ozeki Yonin Shu". The very rare upper half-length portraits of four "ozeki", the second highest ranking sumo wreslers. (from top right) Hokutenyu and Asashio, (from top left) Wakashimazu and Kotokaze. The four husky wrestlers are intensely looking at... (perhaps sumo broadcasting on TV). After some 80 years of absence, the Japan Sumo Association commissioned the making of traditional nishiki-e style woodblock printing to publisher Kyoto Hanga-in, artist Daimon, carver Kishima and printer Ito in 1985. These new Sumo Nishiki-e are sold in Ryogoku Kokugi-kan in Tokyo. (This print comes with the official certificate by Japan Sumo Association).