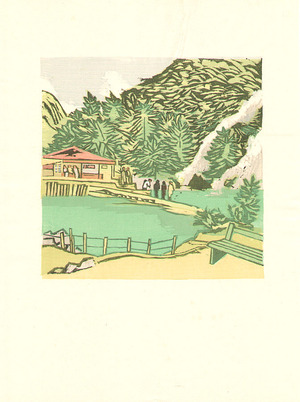 Artist: Maekawa Senpan
Title: Beppu Umi Jigoku ( Hot Spring Notes Continued)
Date: 1944.
Details & Prices: Maekawa Senpan: Beppu Umi Jigoku ( Hot Spring Notes Continued) - Artelino
Source: artelino - Japanese Prints
Browse all 24,756 prints...
Description:
From the series, "Zoku Hanga Yoku-sen Fu" (Hot Spring Notes; Continued). The scenery of one of the Eight Hells of Beppu hot spring resorts in Oh-ita prefecture. The beautiful cobalt blue hot water boils in the Sea Hell spewing the sulfuric vapor. The series depicts the famous hotspring resorts. It consists of 5 sets, 20 prints each, published during 1941-1959. The most of designs were made before or during the W.W.II but could not be published until later.