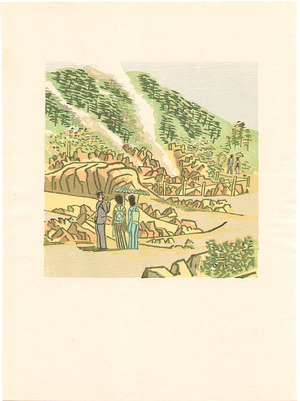 Artist: Maekawa Senpan
Title: Unzen ( Hot Spring Notes Continued)
Date: 1944.
Details & Prices: Maekawa Senpan: Unzen ( Hot Spring Notes Continued) - Artelino
Source: artelino - Japanese Prints
Browse all 24,756 prints...
Description:
From the series, "Zoku Hanga Yoku-sen Fu" (Hot Spring Notes; Continued). The scenery of Unzen hotspring resort in Nagasaki prefecture. The steams are coming out along with the smell of sulfa. Azalea are flowering near the openings of the hot spring. The series depicts the famous hotspring resorts. It consists of 5 sets, 20 prints each, published during 1941-1959. The most of designs were made before or during the W.W.II but could not be published until later.