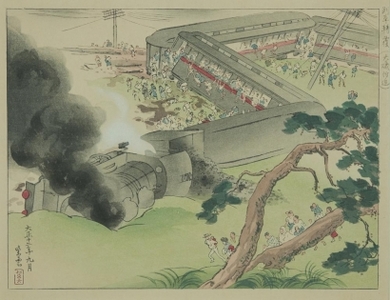 Artist: Kondo Shiun
Title: Great Kanto Earthquake - Train Wreck
Date: 1926
Details: More information...
Source: Art Gallery of Greater Victoria
Browse all 994 prints...
Description:
Depiction of a train wreck during the Great Kanto Earthquake showing cars jackknifed, the engine on its side billowing smoke and passengers escaping from the windows. This train was the the one running between Oiso and Hiratsuka at the moment of the earthquake.