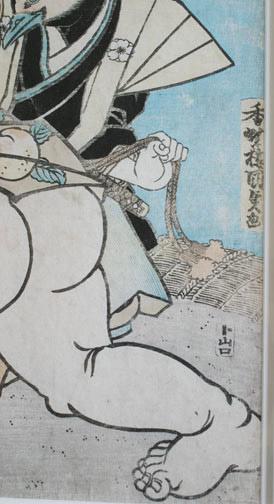 Artist: Utagawa Kunisada
Title: Kidomaru and Momotaro at Sumo
Date: Circa 1843-4
Details & Prices: More information...
Source: Robyn Buntin of Honolulu
Browse all 4,310 prints...
Description:
A favorite pictoral joke in the Edo period was the depiction of sumo performed by unusual participants. Here the two Strong Boys of Japanese folklore meet. Momotaro, born from a giant peach, defeated ogres assisted by his trusty dog, monky and pheasant. Kintaro (here called Kaidomaru), grew up on a mountain with animals as his friends. Momotaro's pheasant appears on the right, while Kintaro's bear acts on the left.