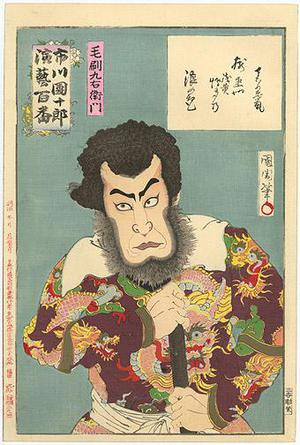 Artist: Toyohara Kunichika
Title: The Actor Ichikawa Danjuro IX as a Pirate Chief (Ichikawa Danjuro Kezori Kyuemon)
Date: Meiji 1894
Details & Prices: More information...
Source: Robyn Buntin of Honolulu
Browse all 4,310 prints...
Description: The actor as the pirate chief, Kezori Kyuemon, clad in a European-style costume, holding a stick. In the cartouche above a poem..'the colour of the waves at Hakata is light blue.' Kezori Kyuemon was a pirate chief from Hakata and Chikuzen who operated in China and India.